Important changes to training during COVID as at 16 July 2021
Unfortunately, due to the current COVID situation we have decided to cease all public training sessions of PSSR. We are still able to offer PSSR training but it will be managed in small , contractor specific-groups or near project/program sites.
To book training please:
Register your workers in WSAT
Select the site – TransGrid External Contractor
Select Role – Private Course Prerequisites – the minimum requirement is proof of ID and white card.
Training Group will contact you discuss options, set up training and inform you of your next steps in the WSAT system.
You must ensure that workers comply with all requirements and controls issued by the NSW Government.
You must ensure that all workers complete and supply evidence specified on the COVID Health Screening Form.
Please find further detail and the COVID Health Screening Form below:
---
TransGrid Training Group provide company specific and nationally recognised (RTO) training for external partners and subcontractors.
All national units of competence (non-TransGrid specific training) must be undertaken with a Registered Training Organisation (RTO) that has the specific unit of competency in their scope of registration.
What Training Do I Need?
To determine training needs for projects or 'works' please refer to the skills matrix on the specific project page or confirm with the TransGrid representative.
How do I book training?
There are two options for booking training that is delivered by TransGrid Training Group.
Below is an overview of each option. Click to review a PDF of the Onboarding of Workers Options.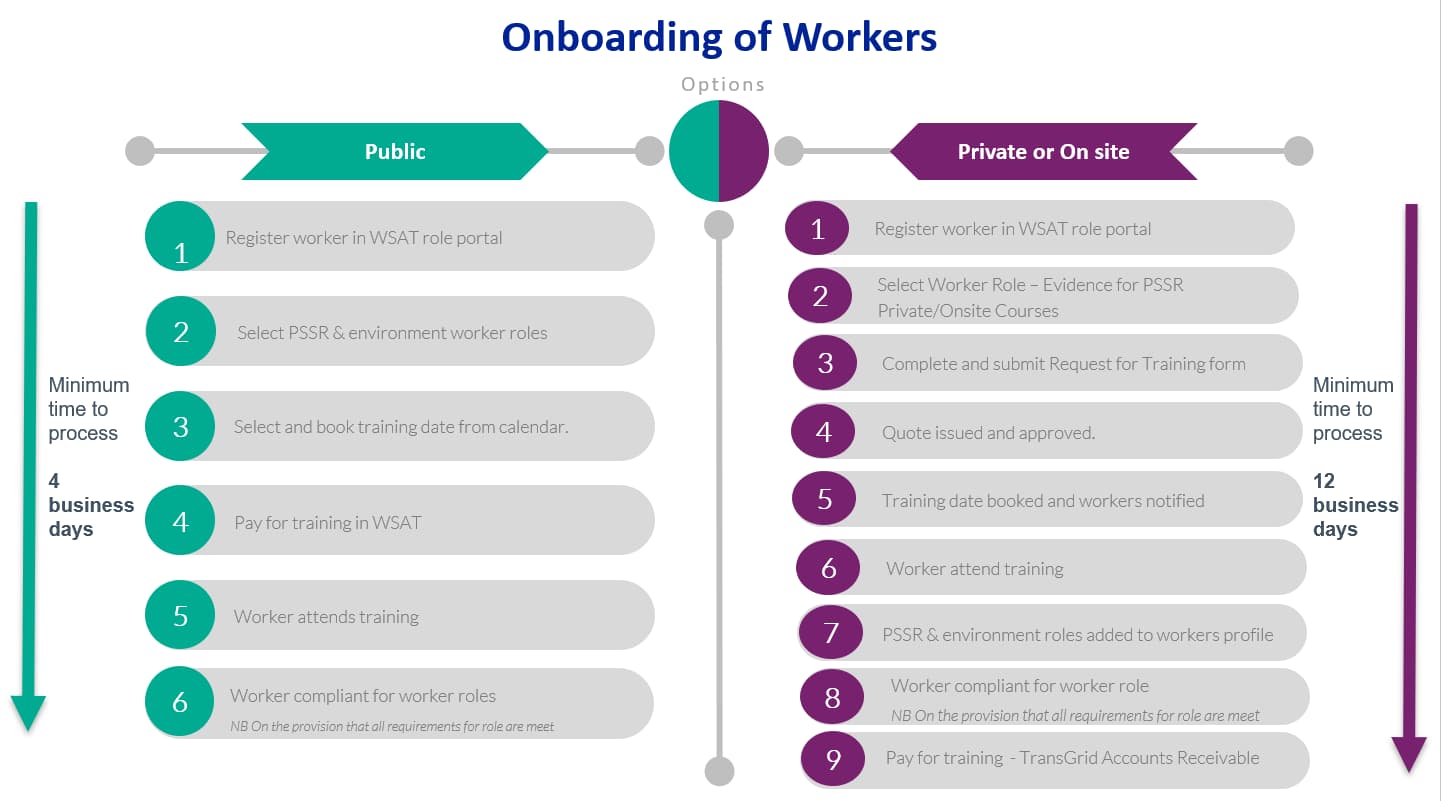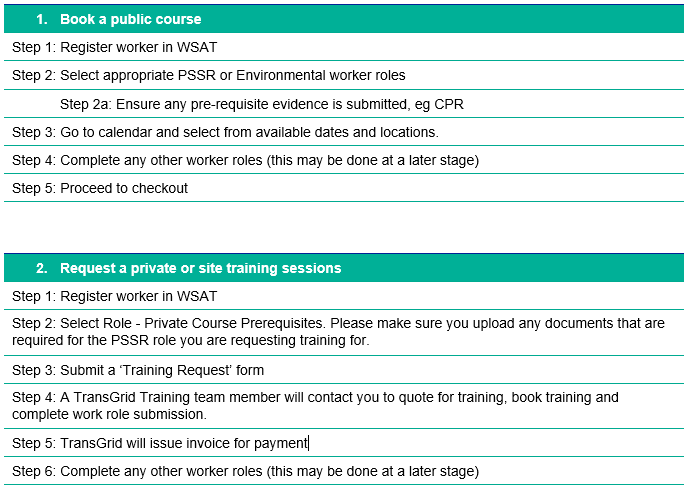 How do I choose the right PSSR or Environmental Worker Roles?
The identification of the appropriate PSSR and environment authorisation and worker role requirements is typically identified during the project establishment phase. Please discuss with the TransGrid Project Manager, Site Manager or owner of 'the works' to clarify the requirements.
Typically PSSR is requested in the following groupings. Click to review a PDF of this information.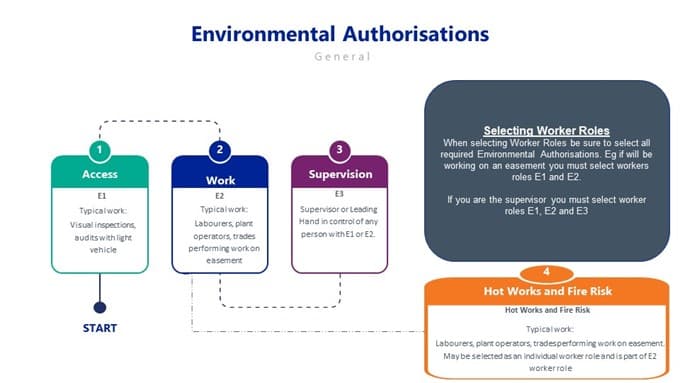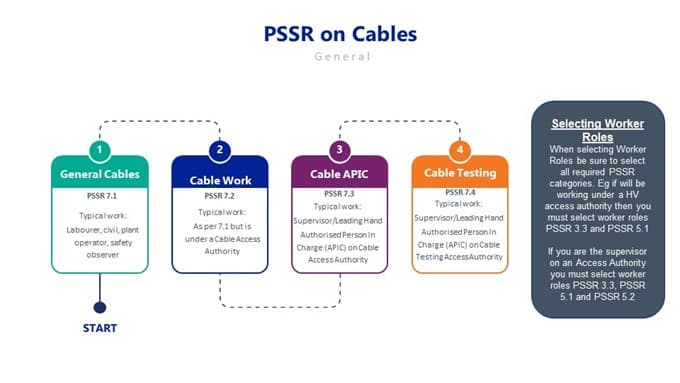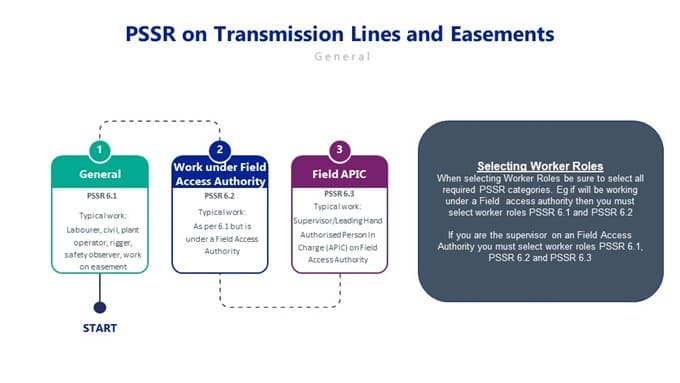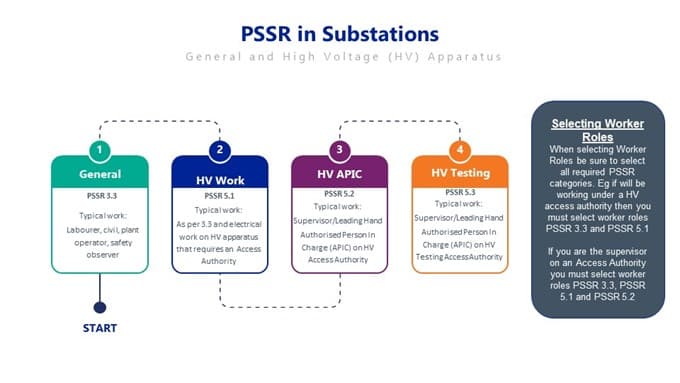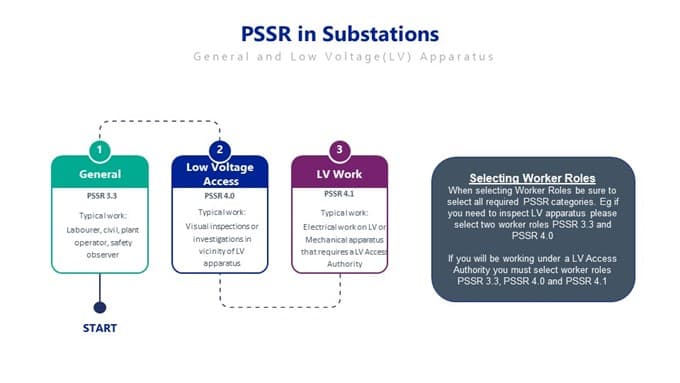 How do I resubmit a role when training has expired?
How do I apply for high level PSSR Worker Roles?
TransGrid has several PSSR worker roles that are considered to be of a higher competency level and require the worker to provide additional evidence to support their application for these roles. The PSSR worker roles are:
When you select these work roles, you will first need to complete a 'Suitability Form', linked above. This form requires the worker's employer and the Principal Contractor/Leading Contractor to answer questions to determine the suitability of the worker for the role. This is mandatory and must be completed before the worker may proceed to training
How do I pay for training?
When booking a public course you will be direct through the system checkout and you can pay by:
Credit card
PayPal
Purchase Order (Please contact our partner Pegasus to organise)
NB: All transactions under $200 will incur a $10 transaction fee. Transactions over $400 will incur a $20 transaction fee.
When booking a private or site training session TransGrid will invoice directly for the training as per agreed quote
TransGrid invoices directly
Where is PSSR Training held in Newcastle and Tamworth?
How do I invite a worker to access their information and training?
Workers are emailed their training at the end of the booking process in the TransGrid WSAT. If this email is deleted or lost, you as the company administrator can invite/reinvite them to this training.
Please click here for a video guide about how to do this, and what the worker will have access to.
Please click here for a PDF version.
PSSR Public Courses Calendar Jul – Oct 2021
Power Systems Safety Rules and Environmental Authorisations
There are minimum mandatory training requirements for all individuals who are required to work on, or near the TransGrid network. This is referred to as Power Systems Safety Rules (PSSR) and Environmental Authorisations. This training is delivered by TransGrid Training Group.