System Guides
Power System Safety Rules
The purpose of Transgrid's Power System Safety Rules is to keep workers safe when they are exposed to the hazards of working on a transmission network.
Transgrid Training Group
Transgrid Training Group provide company specific and nationally recognised (RTO) training for external partners and subcontractors.
Click to read more about Training.
PSSR Public Courses Calendar Jan – Jun 2022
PSSR Public Courses Calendar Jul – Dec 2022
Personalised User Guides
The below user guides provide step by step instructions to assist Contractors using the WSAT system based on their role.
Demonstration Webinar for Contractors
Helpful Resources
Onsite Contractor Knowledge Base
This Knowledge Base includes steps to check company compliance, search for and edit employees, run reports on competencies or work hours, and create users, among other helpful tips. This process can be completed in Onsite, the Pegasus software that powers the Transgrid Worker Safety, Authorisation and Training System.
The Business Rules specify the requirements of the documents you upload in the system. Ensuring your documents meet these requirements will save time and have your business and workers approved faster.
Adding and Removing a Cardholder (print and scan)
Complete and return this form if you have a new worker who is already registered to a different company in the system, and you need them added to your company. Workers can be removed from your company by an administrator directly in the system. Instructions on how to complete this process are available under the End Employment sub-heading of this page: https://kb.pegasus.net.au/display/OCCS/Person
Safety and Environment Management System Review Links
Frequently Asked Questions
Where do I register in the system?
Select the FIND MY PROJECT button at the top of the page to find and select the project you will be working on.
From the project's page, you will be able to begin in the Transgrid Worker Safety, Authorisation and Training System, and register your business.
Once you have registered both your business and workers (you will be emailed login details to register workers on business registration approval), you can create an account in Pegasus Gateway (button at the top of the page).
How much does registration in the system cost?
Business registration
Year 1 costs $125 + GST for the verification of your documents and information, and the maintenance of your account. A desktop Safety Management System (SMS) review of your procedures and policies by a safety specialist (valid for two years) costs $750 + GST for a total year 1 cost of $875 + GST.
Year 2 costs $125 + GST annually.
Worker registration
Year 1 costs $90 + GST per worker for the management of roles, verification of documents, inductions and contractor card.
Year 2 costs $45 + GST per worker.
What documents do I need to upload to register?
The documents you upload will depend on the work your business does for Transgrid.
Business:
Insurances such as Workers Compensation and Public Liability
Company Trade Licences
Safety and Environment Management System (SEMS) documentation or AS4801 compliance information
Workers:
Passport-sized photograph
Generic induction cards
High risk licences
Trade or tertiary qualifications
Certificates or statements of attainment
How does the system benefit contractors?
Registration ensures you are aligning to Transgrid Health and Safety commitments, representing our firm position that all accidents are preventable and risk management is key to achieving our goal of zero injuries.
The system is your opportunity to prove you have the systems, qualifications and competencies to work safely for Transgrid.
Benefits include:
joining an online database of trusted and qualified businesses and workers
having higher quality work opportunities because you can prove you're fit to work
maintaining an online, portable profile
receiving electronic reminders to stay compliant and ready to work
having licences, competencies, inductions, and documents verified by qualified auditors and industry specialists
managing your own profile – roles, competencies, and training – in the Pegasus system at any time, 24/7
accessing a support centre of industry and software specialists if you need help reaching compliance or navigating the system.
enjoying a transparent cost model
Who do I contact if I have questions about the system?
You can contact Pegasus, who manages the system on behalf of Transgrid. Visit Contact Us for details.
How is my personal information protected?
Transgrid respects the privacy of persons utilising this system and is committed to protecting and safeguarding your personal information. Transgrid's Privacy Policy provides information on the reasons Transgrid collects your personal information, the types of personal information Transgrid collects and how it is kept secure.
Transgrid requires contractors to register and maintain their compliance in their online Worker Safety, Authorisation and Training (WSAT) system. The system is managed on our behalf by Pegasus, workforce management software and safety experts. Please find their Privacy Policy here.
Am I a direct contractor or a subcontractor?
As you register your company in the WSAT system, you will need to select whether you are a direct contractor or a subcontractor to Transgrid. Both direct and subcontractors must register.
Direct Contractor – invoice Transgrid directly
Sub-contractor – does not invoice Transgrid directly. You sub-contract to a Direct Contractor
How do I download a document on a mobile device?
To download a document from the Learning Management System on your mobile:
Click on the forward arrow, allowing you to view all pages in the document. When you get to the last page, tick to acknowledge.
Press Click to download and select where to save it on your mobile.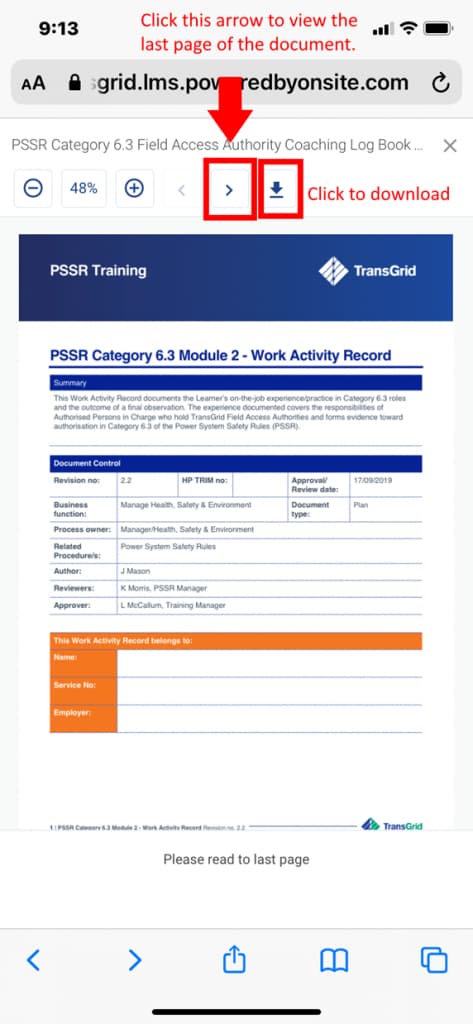 Who should have administration rights for my company in the Transgrid WSAT System?
Only current employees from your company who access Pegasus to maintain company compliance and worker records should have administration rights in the system.
How do I maintain and remove company administration rights?
It is important to inactivate users in the system that leave your business so they are unable to access your company's data after they have left. You can change/inactivate users in Onsite Track Easy by following the instructions in this procedure: Users & Access Rights
How do I offboard workers?
When a worker leaves your business it is important to end their employment in the system so they can no longer access site representing your company.
This will also turn off the reminders for expiring documents and training for workers that you no longer need to maintain, keeping your company data up to date. You can end employment of workers by following the steps in this procedure: User Guide – Ending Worker Employment in Worker Portal